PICCADILLY SKI CLUB'S STORE
    DON'T SEE WHAT YOU WANT, CONTINUE TO CHECK BACK       FOR NEW PSC PRODUCTS AS THEY BECOME AVAILABLE.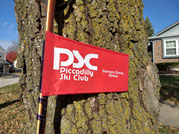 PSC Club Gear is here- Long Sleeve Tee Shirts available for sale or order in both Men's and Women's styling. 100% pre-shrunk cotton.  Order Red or Blue with white lettering on sleeve.  See Photo. Sizes: Small through 3XL.  Pricing:   S - XL are $18, XXL are $20 and 3XL are $22.  Please contact Susan Valenta at general meetings to purchase you shirt, or contact her at  svalenta@ameritech.net
More "Club Gear" is here!!  We have received our order of PSC knit hats.  These hats will be available for sale at club meetings.  We have a limited quantity of these hats and most likely we will not re-order them this year when they sell out. These hats are knit with a cuff.  "Piccadilly Ski Club" is knit into the hat and the PSC logo is embroidered into the cuff. 
The hats are $20 each.
Please see Susan Valenta at general meetings to purchase your hat or contact her at svalenta@ameritech.net to make arrangements if you cannot make a meeting.